VIVAZ FINE JEWELRY
Vivaz, a Hong Kong based company specialises in impeccably crafted GIA certified engagement rings, fine diamond jewelry essentials and investment purpose precious stones including fancy color diamonds.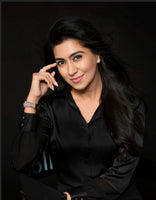 Sunaina Chand
Vivaz was founded by Sunaina Chand, a product of her life and experience. Not your ordinary Jewelers, Sunaina and her team take their clients on a journey of well informed and hands-on experience with premium diamonds like no other. Giving each and every one the time and the confidence with their investment. 
Testimonials
Thanks Sunaina! Really appreciate your help and you being so accommodating during this process.

Thomas Tang
Loved loved loved the rings!! Just as I had imagined and wanted.

Charu D.
Talk about a truly inspirational double celebration design, this ring is all that and more.



Robert G.
Thanks so much for tonight, for your kindness, waiting for us, very nice you prepared the ring so Sharon could see the GIA numbers, and you didn't talk about finance, you were amazing as always, thanks so much, I'm so grateful!

M. Splingart
Loved the ring! I really appreciate your hard work and thank you for everything else u gave. U didn't have to do that.

Rajesh A.
Thanks for the intro Patrick, She's awesome!

M. Cheung
Thank you Sunaina! My husband likes it too!

Louise M.J.
Wearing my ring today, it's so sparkly, you gave it a 2nd life to it. Thank you again for everything!

Y. Ying
It was our pleasure to do business with you Sunaina. We are very satisfied in your service, style and apprecitae the attention we received.

Dinesh K.
Instagram Look Book
Browse Our Curated List of Fine Jewelry Pieces